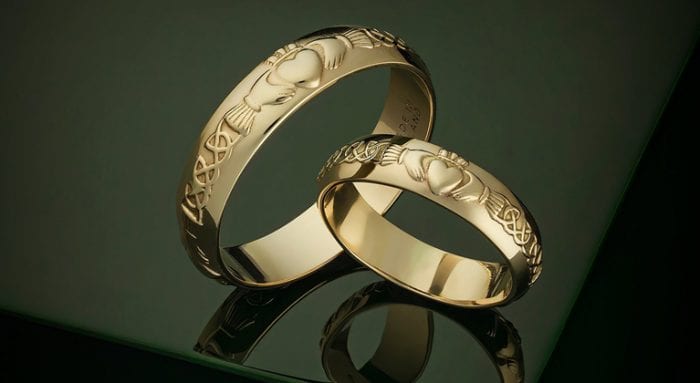 Irish Engraving Ideas for Your Wedding Ring
Did you know the Claddagh ring is a traditional Irish Wedding ring? It displays your Love, Loyalty and Friendship through its classic design of Hands, a Crown and a Heart. It is a well-known Irish symbol and is now most frequently worn as a symbol of your Heritage.
However Claddagh and Celtic rings are still incredibly meaningful as wedding rings, their symbolism of love, loyalty and friendship intertwine with the enduring love represented in the Celtic Trinity knot to create the perfect wedding rings. A beautiful representation of the key ingredients required for a successful union.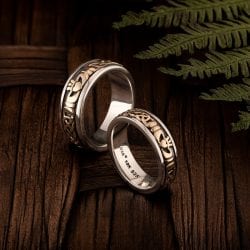 Of course wedding rings are always more precious when they are made personal to you. And what better way to personalize your Celtic and Claddagh wedding ring, than with an engraving.
You can simply engrave a date or your names on the inside of the ring to personalize. Alternatively if you would really like to celebrate your Irish Heritage, why not engrave an Irish Term of Endearment?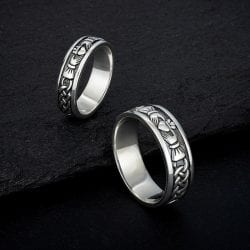 We have compiled a list below of some lovely Irish phrases to engrave on your rings. Not just for weddings, these terms can be used for anniversaries, engagements or any special occasion that you exchange or gift rings or any engravable jewelry for.
Irish Phrases For Engraving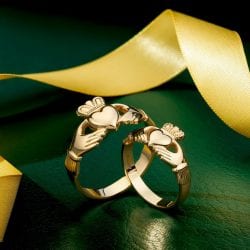 Irish Phrases of Love
Grá go Deo – Love Forever
Mo Chuisle – Darling or Sweetheart
A Chroí – My Heart
Mo Chuisle, Mo Chroí – Pulse of My Heart
Mo Anam Cara – My Soulmate
Mo Ghrá Thú – You are my Love
Grá Mo Chroí – My Hearts beloved
Mo Ghrá – My Love
Le Chéile – Together
A Chroí – My Heart
Mo Fhríorgrá – My True Love
Ádhraím thú – I adore you
Irish Terms of Endearment
A Pheata – a Pet (this term is often used to describe and a mother and daughter, or son that is favouritised somewhat!)
A Chara – Friend
A Stór – My Darling
Personalized Celtic & Claddagh Jewelry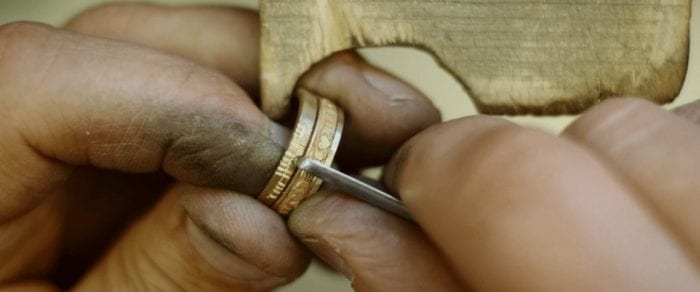 As you can see we have given many different options for you to choose from. From lovers, to family and friends you are bound to find an engraving to convey your sentiment.

Ring Size
However it is worth noting, to consider your ring size. For tips on how to measure your ring size, read our guide. Just remember rings generally do not have a lot of space for engraving. Therefore, only one word or two short words will normally fit. However, please feel free to get in touch with us with your thoughts and we would be happy to help you out!
Enjoy Free Engraving on All Fallers Claddagh Rings