The name shamrock derives from the Irish word Seamróg, meaning 'young clover'. Not to be confused with the National emblem of Ireland, The Harp, the Shamrock is one of the most well known symbols of Ireland. It also earns the title of National Flower of Ireland. Intrinsically Irish and full of meaning, lets take a moment to explore the meaning and symbolism of this delicate Irish flower.
The Meaning of the Shamrock to the Celts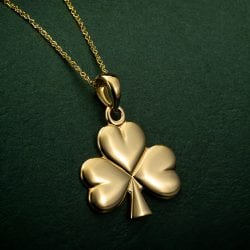 The Shamrock was an important ancient symbol to the Celts. Believing that everything important in the world came in threes; the earth, the sky, and the sea; the three ages of man and the phases of the moon, this three leafed plant was deemed to be sacred. Not only did they perceive the Shamrock to be a good luck charm but it was also believed to ward off evil.
The Celts also thought the Shamrock possessed mystical powers. According to folklore if bad weather is on the way, its leaves will turn up towards the sky.
St Patrick's Day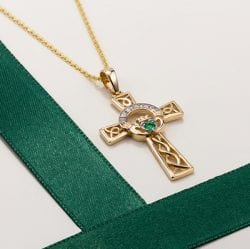 The Shamrock is synonymous with St Patrick's Day. St Patrick, the patron Saint of Ireland, brought Christianity to Ireland. Legend has it, he plucked a Shamrock from the ground and used its three leaves to illustrate the Holy Trinity, using each leaf to represent the Father, the Son and the Holy Spirit. Hence the very important tradition of wearing Shamrocks on St Patrick's Day.
An Unofficial Emblem Of Ireland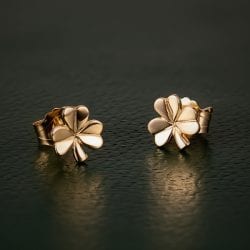 The Shamrock has become somewhat of an unofficial emblem  of Ireland. It is used on many state organizations such as, Aer Lingus and Tourism Ireland, with IDA Ireland using a modernized version.
The use of the Shamrock as an emblem could be said to initiate from the fact is was featured on the badge of the Irish Volunteers, a local militias  raised by local initiative in 1778, whose purpose was to guard against invasion and to preserve law and order.
Authentic Irish Shamrock Jewelry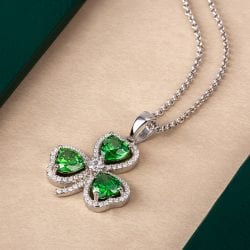 Of course while Shamrocks are most widely worn on St Patrick's Day, there are many reasons to wear this beautiful Irish flower all year round. In fact our collection of inspiring Shamrock jewelry is reason enough! Crafted by master Irish craftsmen, and made from silver or gold it is a beautiful reflection of Irish traditions and folklore. Our Irish Shamrock jewelry is perfect to wear all year round as a symbol of your Irish Heritage.
Symbols of The Shamrock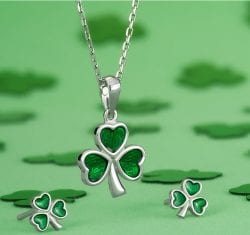 Luck – This beautiful Irish flower brings the wearer good luck, perhaps the Luck of the Irish
St Patrick's Day – Follow a very important Irish tradition and wear your Shamrocks with pride St Patrick's Day
Irish Heritage – Wearing a Shamrock is a way to showcase your Irish Heritage
Protective Properties – The Shamrock as asserted by the Celts, wards off evil spirits and protects the wearer from harm
Mystical Powers – This mystical Irish flower is believed to have the power to predict bad weather