Much of Irish Jewelry is made drawing inspiration from Irelands rich Celtic history and culture. Of course, it is no secret that we Irish love a good story so of course this comes across even in our jewelry. The art of storytelling in Ireland began with the arrival of the Celts in 500BC. No feast or noble gathering was complete without a bard. Signs and symbols were always used in these stories and held incredible meaning and power. We see these symbols in Celtic Crosses rooted around Ireland illustrating the Christian faith. Legend has it that St Patrick used a Shamrock to symbolize the Holy Trinity, converting Irish people to Christianity.
Traditional Symbols Of Ireland
The Celtic Symbols share themes of Love, Loyalty and Wisdom. These symbols live on in our beautiful Irish Celtic jewelry exquisitely crafted to reflect our rich heritage. Below are some traditional symbols of Ireland in detail. So that you can choose a meaningful piece of Irish Jewelry.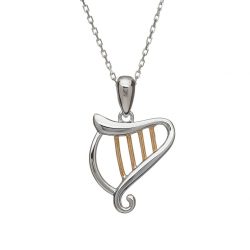 The Celtic Harp, Cláirseacht in Irish, is a square harp traditional to Ireland.  It requires great skill to play and is associated with the Irish ruling class. The wire strings are said to represent the arms of a King. In Celtic culture Irish kings and chieftains had their own resident harpist, no feast or noble gathering was complete without a musician to provide entertainment for guests. Carrying with them legends and stories of their native land they kept the culture alive with their haunting melodies.
Today the Harp is the most widely recognized symbol of Ireland. The National Emblem of Ireland, it is seen on all official government documents, Irish Passports and Irish Coins.
In 1862 it was used on the very first bottle label for Guinness, a dark Irish stout synonymous with Ireland.
For a truly Authentic Irish Harp have a look at our House of Lor Harp Jewelry range. Made from sterling silver with a piece of gold mined in Ireland it makes the perfect piece to showcase your Irish Heritage in the most authentic way.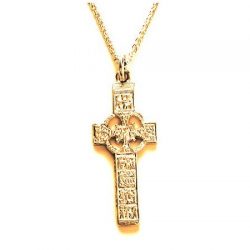 The Celtic Cross is a form of Christian cross that emerged in the early middle ages. St. Patrick is Ireland's Patron Saint. Legend has it that he saw a pagan standing stone imprinted with a circle, the symbol of the moon goddess. He is said to have blessed the stone marking it with a Latin Cross, thus creating the first Celtic Cross.
A traditional symbol of Ireland, the Celtic Cross, also known as the High Crosses are found all over Ireland, marking out old monastic sites or sacred land. Expertly crafted from sandstone or granite, the crosses feature stories from scripture expertly carved and preserved for generations.
Muiredach's High Cross is a fine example of an outstanding Celtic Cross. This magnificent Celtic Cross stands at 17 feet and 8 inches high. It is located at the ruined monastic site of Monasterboice in County Louth. Each side is covered in biblical scenes from the old and New Testament.
Our master craftsmen have recreated this magnificent cross into a stunning detailed piece of jewelry. Have a look at this beautiful Muiredeach cross crafted from 14K yellow gold. A fine example of our High Crosses of Ireland Collection.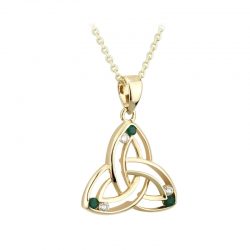 The Trinity Knot or the Triquetra is one of the most loved symbols in Celtic Jewelry. Created many centuries ago in an Irish monastery it has appeared in several guises down through the years. It is a common symbol found in Ireland. It appears in old manuscripts such as the Book of Kells, stained glass windows and on Celtic crosses and monuments from the early Christian period.
To the Celts it was a symbol of life, standing for Earth, Wind and Water.  Later it came to represent Mind, Body and Spirit.  Others believe it stands for Past, Present and Future.
Christianity interprets it as a symbol of the Holy Trinity (Father, Son and Holy Spirit) and represents eternity.
A trinity knot with a circle around it emphasizes the unity of the combination of the three elements or symbolizes Gods love around the Holy Trinity.
Today the Trinity Knot is used as a token of never-ending love. Representing the three promises of a relationship, to love honor and protect. This design makes an elegant motif with meaning on wedding rings, necklaces and earrings. Often paired with other Traditional Irish symbols particular on wedding rings to create a beautiful Irish piece of jewelry.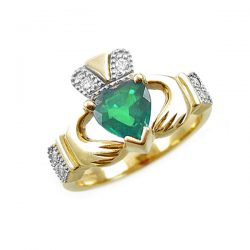 The Claddagh ring dates back to the 17th Century. Designed by young Irish Sailor Richard Joyce. While on a voyage in the Mediterranean he was taken captive by Algerian pirates. Sold into slavery to a Moorish goldsmith, Joyce learned his craft. Years later on his safe return to Galway, he presented his sweetheart with a Claddagh ring. A token of his enduring love to her
"With these hands I give you my heart and I crown it with my Love"
Without a doubt the Claddagh is the most popular traditional symbol of Ireland. A unique Irish symbol of Love. The Heart represents love, the Hands, Friendship and the Crown represents Loyalty. Traditionally worn as a wedding or promise ring, you can also wear this wonderful Irish ring to display your relationship status. Our table below gives you a quick guideline on the different ways to wear your Claddagh ring. Of course, this is just if you would like to follow the tradition. Today the Claddagh ring is more commonly worn as a symbol of your Irish Heritage,  worn worldwide by the Irish Diaspora and lovers of all things Irish! See our blog how to wear your Claddagh ring for a more detailed account.
How To Wear Your Claddagh
| | |
| --- | --- |
| | Wear on the ring finger of your right hand with the Heart facing outwards to show that you are single and looking for love. |
| | Worn on the right hand with the heart facing towards you implies that you are in a relationship, your heart is taken. |
| If you are engaged to be married you should wear the ring on your left hand with the Heart facing outwards. | |
| Worn on the left with the Heart facing towards yours shows that you are happily married |   |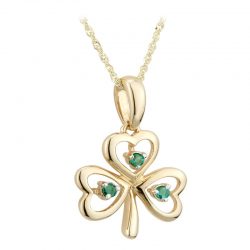 The Shamrock is widely used and recognized as a symbol of Ireland. The name Shamrock is derived from the Irish word 'seamróg' meaning little plant/young plant. Like most Irish Celtic symbols this little flower has many meanings.
St Patrick, Ireland's Patron Saint, is believed to have brought Christianity to Ireland. Legend has it he used the three heart shaped leaves of a Shamrock to explain the Holy Trinity. The Father, The Son and The Holy Spirit. Every year on the 17th of March St. Patrick is celebrated by Irish communities with a parade. It is custom to wear the Shamrock with pride on this day to celebrate our Patron Saint and all things Irish!
Of course, the Shamrock has more than just religious connotations. It is also known to bring the wearer the Luck of the Irish. The Celtic Druids attached great importance to the Shamrock. Believing the number 3 to be the perfect number, it is possible it signified the past, present and future. Used as a charm, they believed this little sprig of green would protect them from harm.
The Shamrock is often thought of as the National Emblem of Ireland. This, as we learned earlier, is not the case it is actually the Irish Harp. With that said the Shamrock has become a Traditional Symbol of Ireland. The emblem appears in many of our State organizations, as well as organizations specific to the Republic of Ireland, such as Aer Lingus, Failte Ireland and Tourism Ireland.
Naturally, this important Irish symbol is interpreted in many different ways in our Celtic Jewelry. With a selection of fine jewelry designed Shamrocks adorned with sparkling stones in silver or gold for you to wear with Pride on St Patrick's Day or any other day to celebrate your Irish roots and history.
We hope this blog will help you choose a meaningful Irish piece of jewelry for yourself or your loved one. With a range of curated collections, by Irish Symbol, or jewelry type, we make choosing a symbolic and meaningful piece of jewelry easy. In addition all of our Irish Celtic Jewelry bears the Hallmark of the Assay office. Your guarantee of quality.