Solvar is an award winning jewelry manufacturer crafting Irish jewelry since 1941. This third-generation family run Irish business combines a passion for Ireland with a love of jewelry.
Irish Heritage Jewelry
Each piece of Solvar jewelry is individually designed, drawing inspiration from Ireland's rich heritage and unique icons to provide a cherished memory of Ireland. Ireland is a land of storytelling. The unique icons such as the Claddagh, the Celtic Knot, the Shamrock, the Harp and the Celtic Cross all have a story to tell from centuries past. Solvar's master designers have carefully crafted these icons from yesteryear into timeless pieces of jewelry to continue this rich cultural legacy.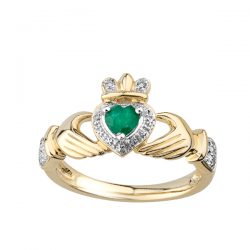 A gift of Love the Claddagh was originally designed by young Irish sailor Richard Joyce. Captured and sold into slavery far from his native land he held the memory of his sweetheart deep in his heart. Years later on his safe return to Galway, his gift to her was a Claddagh ring. Made with the skills he learned during his imprisonment it was his token of enduring love to her "With these hands I give you my heart and I crown it with my Love"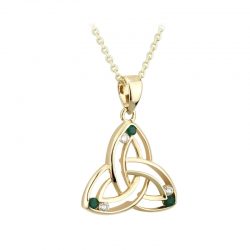 The Celtic Knot was created many centuries ago in an Irish Monastery on the pages of the Book of Kells. Instantly recognizable as Irish the Celtic Knot tells a tale of enduring love, with no beginning and no end it symbolizes eternal life and never ending love.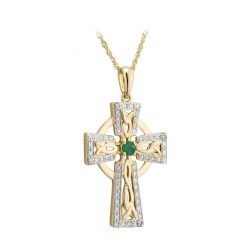 Since early times, the Celtic Cross has marked sacred places all over Ireland. Each one has it's own tale to tell- with stories from scripture carved in stone, preserved for future generations. From the shores of Lough Neagh and the Cathedral city of Armagh to the monasteries of Clonmacnoise and Monasterboice these high crosses are powerful symbols of Christianity in Ireland. A powerful symbol of faith, wear a Celtic Cross as a tribute to the precious Heritage of Ireland, the home of Saints and Scholars.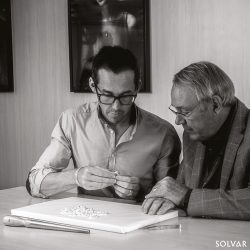 Your Symbol of Quality
All of Solvar,s sterling silver and gold jewelry is hallmarked by the Assay office in Dublin castle. The Dublin Assay Office is one of the oldest Assay offices in the world.  It was founded in 1637 to ensure only the purist quality gold and silver was used in the crafting of jewelry throughout all of Ireland. Still located today in the grounds of Dublin Castle, every piece of our jewelry continues to be hallmarked in the traditional way by the assay office as a symbol of quality and reliability.
 Award Winning Jewelry
The recipients of the Irish Craft Council Exporter of the year awards in 2010 & 2011.
Discover the Solvar collection of handrafted fine jewelry.