As St. Patrick's Day is fast approaching us, what better time to stop and reflect upon some of the finest Irish jewelry designers that the Emerald Isle has to offer.
Ireland has a long history with jewelry and is home to some of the most intricate craftsmanship in the jewelry market with beautiful celtic and gaelic designs that span hundreds of years.
Looking at a more modern take on this age-old process, let's review some of the top Irish jewelry designers available on the market now: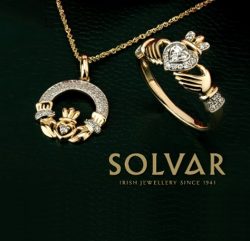 Solvar Ltd. is a family owned Irish company established in 1941 and based in the heart of Dublin. Solvar has evolved to become recognised as a leader in the design and manufacturing of destination and heritage jewelry.
With over seven decades of tradition and experience in the jewelry business, Solvar prides itself on its beautiful Irish and Celtic jewelry.
All Solvar Irish themed pieces are individually designed, drawing inspiration from Ireland's rich past and unique heritage. Examples of which are the Claddagh, Celtic Cross, Shamrock and the ever intricate Celtic Knot.

Established in 1934, Newbridge Silverware has been designing and crafting quality tableware at its manufacturing facility in Newbridge, Co. Kildare.
In 1934, the new Free State Government encouraged the setting up of new manufacturing enterprises in non-traditional areas.
Inspiration for Newbridge Silverware came from a local school teacher, Senator Cummins, the National leader of the Labour Party William Norton and Joe McGrath.
It was they who formed a committee to encourage local industrial development. The metal forging and linishing equipment left behind by the army and their local know-how combined to create a unique enterprise – The Newbridge Cutlery Company.
Today, craftsmen each with a lifetime's experience continue to fashion the finest tableware with the same skills and loving care in addition to jewellery and giftware.

The House of Lor is a relatively new brand of Irish gold jewelry, making its debut on the market in 2015. However, The House of Lor is a brand from The Jewellery House, which has over 60 years of experience in the jewelry market.
The House of Lor range consists of a comprehensive Irish rose gold and sterling silver collection.
Their collections "live and breathe the duality of Ireland today, enhanced by the richness of an ancient society; constantly looking to the future whilst always honoring its past."
In fact, House of Lor jewelry is made under an exclusive license from the Galantas Gold Corporation who operate the only commercial gold mine in Ireland. Meaning House of Lor is the first and only range of Irish Jewelry made using Irish gold in every design.