A promise ring is token of love you give to your partner. Often given as a pre-engagement ring it symbolizes love and commitment. Promise rings can be of any style and any metal. However with the meaning and symbolism of Irish Celtic and Claddagh rings we feel they make the perfect promise ring.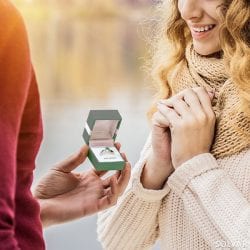 Origin of The Promise Ring – The Posy Ring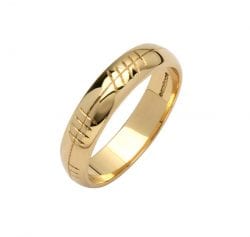 Gaining much popularity in recent years, the concept of a Promise ring has been around since the 15th and 16th century. Quite possibly originating from the Posy Ring from Medieval times. Posy rings are gold rings with a short inscription on the surface. The name 'Posy', 'Poesy' derives from the word poetry meaning short rhyme. Popular in France and England the rings were used to communicate secret messages of love between the giver and the recipient. Wearing these words on your skin was believed to increase their poignancy.
What is a Promise Ring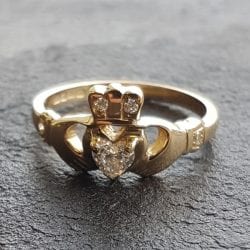 Pre-engagement ring – a promise ring is can be used as a romantic gesture to propose so that you can then both enjoy picking out the engagement ring together. Perhaps with  your current financial circumstances you cannot afford the proper engagement ring just yet, in which case a promise ring can be worn until this changes.
The first token in a relationship – A promise ring can be given to your romantic partner to signify how serious you are about where the relationship is heading. Following proper etiquette it is advised to give a promise ring only after 6 months to a year of dating
A promise to love forever
Commitment ring – for some that perhaps do not believe in marriage, a promise ring is a way to display their commitment to a monogamous relationship
The Claddagh Ring
– An Irish Promise of Love, Loyalty and Friendship –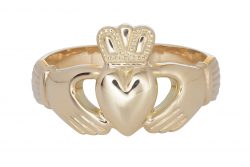 Grá, Dílseacht agus Cairdeas
An Irish symbol of Love, Loyalty and Friendship this iconic Irish ring makes the perfect promise ring.  Of course many myths and fables surround the origin of the legendary Claddagh ring. However the most substantiated and most romantic story would be that of Richard Joyce.
A Promise of Enduring Love & Commitment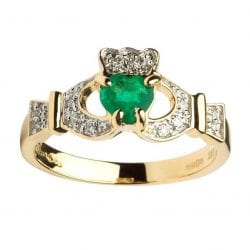 Richard Joyce was a young Irish Sailor who lived in the Claddagh, a little fishing village in the heart of Galway. Whilst on a voyage in the Meditarranean the young sailor was taken captive by Algerian pirates. Spending many years in captivity in Tunis he acquired his skill as a goldsmith.
When William III came to the throne of England in 1698, he concluded an agreement whereby all his subjects who were held in captivity were to be allowed to return to their homes. It is said that by this time Joyce's master became quite attached to him. Offering his most beautiful daughter as his bride in an attempt to keep the Galway man. This offer, however Joyce refused. Holding the memory of his sweetheart from Galway deep in his heart, Joyce refused this offer. He returned to his homeland the Claddagh. Thus, the iconic Claddagh ring was born. Designed as a token of his enduring love, he declared
"With these hands I give you my heart, and I crown it with my love"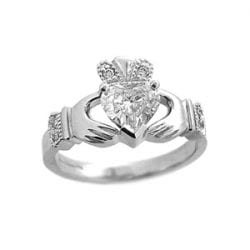 The Heart representing Love, the Hands representing Friendship and finally the Crown as a symbol of Loyalty to both his sweetheart and his home the Claddagh. With this special symbolism and meaning the Claddagh ring makes a truly romantic promise ring.
Of course there are many different styles of Claddagh rings to choose from and there are no rules as to how much you should spend. Essentially you may want to buy our entry level silver Claddagh ring. Handmade here in our workshop this is a quality durable ring at a very reasonable price. The ring can be engraved with a date or your initials. Adding a personal touch while creating a lasting memento of your promise to each other. On the other hand it may be within your means to buy one of our beautiful Diamond Claddagh rings for your loved one. In which case you might decide to keep as an engagement and have a wedding ring made to match. Whatever your means, the sentiment stays the same. And there is no stronger Irish symbol of love and commitment than an authentic Claddagh Ring.
How To Wear Your Claddagh Ring as an Irish Promise Ring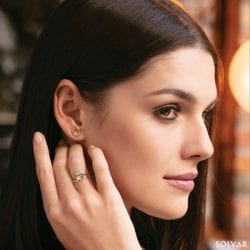 Today the Claddagh ring is worn worldwide as a symbol of your Irish Heritage. However traditionally wearing a Claddagh ring is a clever way to display your relationship status. There are many different ways in which you can wear your Claddagh ring. If you are lucky enough to receive a Claddagh ring as a promise ring, you can choose between the two ways listed below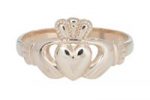 Wear on the ring finger with the heart facing towards yours to imply your heart is taken.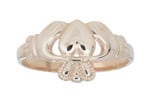 Wear on your ring finger with the heart facing outwards to imply you are engaged to be married.
Is a Promise Ring the Same as a Commitment Ring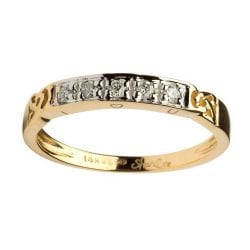 A commitment ring shares a similar concept to a Promise Ring. Just like the name suggests it is worn by two people to show that they are in a committed and monogamous relationship. Couples who for some reason or other cannot get married or maybe do not believe in marriage wear commitment rings in place of wedding rings. Again as with Promise rings, commitment rings can be of any style or price. This Celtic Diamond diamond eternity ring makes an ideal choice.  With a subtle I Love You etched on the side, this beautiful Celtic design serves as a constant reminder of enduring love. Many of our Celtic and Claddagh collection have matching ladies and men's rings. For example, this very popular silver Corrib Claddagh ring. Combining the symbolism of the Claddagh along with the Trinity it creates a beautiful Irish symbol of your commitment.
Personalize Your Promise Ring With A Free Engraving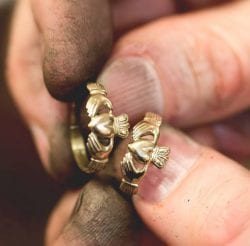 Taking inspiration from the Posy ring why not engrave a special date or short message on the inside of these rings? In medieval times they believed wearing the words so close to your skin increased their poignancy. Where possible we offer free engraving on all of our rings. Thus creating a very romantic and treasured gift for you.
Popular Irish Engravings
Grá mo Chroí
Le Grá
Mo Chuisle
Grá go Deo
Mo Chroí
How To Give A Promise Ring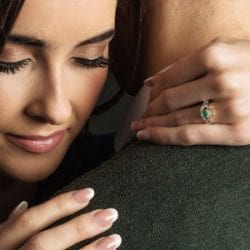 Giving a promise ring is a very romantic gesture in itself. That said the act of giving should be treated just as important. While it may not be a proposal of marriage just yet it is a symbol of forever. Valentine's day, Christmas, New Years and the anniversary of your first date are all ideal occasions in which to present the love of your life with this symbol of commitment. And just like an engagement you might want to choose a place that holds a very special meaning to you.
If you are presenting one of our Claddagh rings you could always quote the Richard Joyce himself and say "With these hands I give you my heart, and I crown it with my love"
Or you might choose one of our beautiful Celtic rings and point out the symbol of the Trinity knot while confessing your enduring love. Grá Mo Chroí Tú
Choose The Perfect Irish Promise Ring

Whatever your reasons for giving a Promise ring we hope this helps you to choose the perfect symbol of your love. Explore our range of Claddagh and Celtic rings to find an Irish ring that bests symbolizes your love and commitment.