The St Brigid Cross, Cros Bríde is a cross woven from the rushes of the Irish landscape. A beautiful Irish tradition, it is handmade with four arms tied at the end and meeting in a woven patterned square in the centre. Traditionally they were displayed over the door of a house to ward off evil, fire and hunger.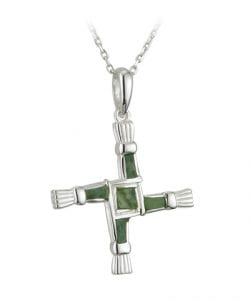 Every year these Irish crosses are made for the 1st of February, the beginning of Spring, and of course St Brigid's Day. The crosses are then blessed in a Mass and displayed in your home, car, boat or anywhere you see fit as protection and also as a symbol of your faith.
SHOP ST BRIGID'S CROSS JEWELRY
Who is St Brigid?

The Iconic St Brigid is somewhat of an unsung hero in Irish History. A truly amazing Irish role model she is the founder of the first monastery in County Kildare. Legend has it her father, Dubhthach was a pagan chieftan of Leinster and her mother believed to be named Brocca was a Christian Pict slave baptized by Saint Patrick. It is said St Patrick inspired St Brigid to deepen her faith and spread the word of God.
When she was young her wish was to join a convent. However her father had other plans. He insisted she marry a wealthy man he had promised her to. She in turn asked for God's help to take away her beauty so that the man would not want to marry her. Her prayers were answered and her father relented. Upon joining the convent not only did her beauty return but apparently she became even more beautiful than ever.
Brigid And Religious Life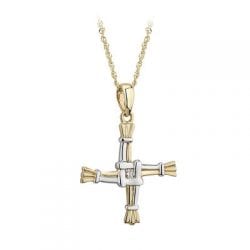 Wishing to build her own convent she found the perfect site. However the land belonged to the King of Leinster. Once again asking for Gods help she approached the King and told him she needed land. He asked her how much and she replied that all she needed was the amount her cloak would cover.
St Brigid's Cloak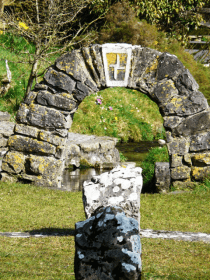 Amused by this request the King agreed, so she laid her cloak on the ground. To the Kings astonishment the cloak grew and spread until it covered the rich, green acres we know today as the Curragh of Kildare.  This area is also known as St Brigids Pastures.
St Brigid's Cross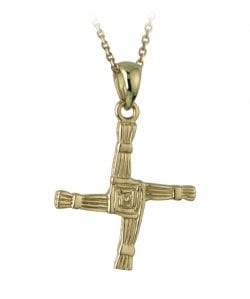 There are many legends surrounding the origin of St Brigid's Crosses. One such story is that St Brigid was by the sick bed of a dying Pagan Chieftan, quite possibly her father. Watching over him in his final hours and soothing him with stories of her faith and her unwavering trust in God. She picked up some rushes from the floor and began to weave  them into a cross. When the chieftan asked what she was making she told him the Story of Jesus. Before he died the Chieftan asked to be baptized to become a Christian.
St Brigid's Cross in Irish Celtic Jewelry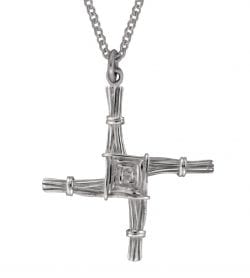 As we now know the St Brigid's cross is both a symbol of protection and also one of faith. Hence why it has become the subject of our master craftsmen in Irish Jewelry. These beautiful crosses are expertly crafted from silver or gold. And while we still make the original St Brigid's cross from rushes and keep these in our houses and cars as a protection, isn't is just wonderful to be able to wear this symbol of faith everyday in the form of Irish Jewelry. With such rich symbolism, meaning and history to this majestic cross it makes a perfect gift for you or your loved one. Below we list the special symbols and meaning of this unique Irish cross.
Meaning & Symbols of the St Brigid's Cross In Irish Celtic Jewelry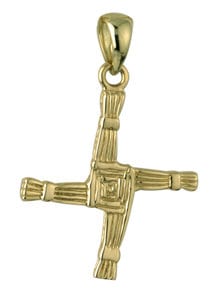 Protection – Traditionally the cross was hung over your household door to ward off evil, hunger and fire. Still today it used in the same way only now we actually use it in our cars, boats or anywhere we feel we might need protection.
Faith & Religion – St Brigid along with St Patrick is the patron Saint of Ireland. This cross is long associated with this important woman from Irish History.
Symbol of Ireland – Much like the Harp and the Shamrock, the St Brigids Cross has become a one of the symbols of Ireland. It features in the idents used for RTÉ Television, from the original 1960 design until the late 1990s. Formerly a symbol of the Department of Health, it remains in the logo of An Bord Altranais, the Irish Nursing Board.
Irish Heritage – you can simply wear this cross as a symbol of your Irish Heritage. With such deep meaning and long History attached to this cross. It makes the perfect piece of Celtic Jewelry to wear in celebration of your Irish heritage.
Spring, Fertility and Life – St Brigid is also known as an Irish goddess of spring, fertility, and life.
Celtic Jewelry
As you can see there are many different meanings and symbolism attached the St Brigid's Cross. Discover our selection of Irish made crosses and more in our Celtic Jewelry Collection.
SHOP ST BRIGID'S CROSS JEWELRY