The 17th of March marks St Patrick's Day. A celebration of all things Irish, this day is honored with a Parade in many different countries all over the world. In fact St Patrick's Day is celebrated in more countries worldwide than any other national holiday!
As well as being a religious holiday St Patrick's Day honors Ireland's rich culture and heritage both traditional and contemporary.
St Patrick – Ireland's Patron Saint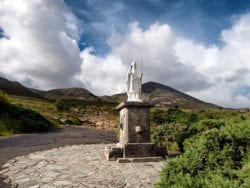 St Patrick is the patron saint of Ireland. Born in Roman Britain he was captured by Irish pirates during a raiding party and taken to Ireland as a slave to herd and tend sheep. During this time, Ireland was a land of Druids and pagans. Spending 6 years here as a slave, it was during this time Patrick turned to God. He wrote in his memoir, The Confession,
"The love of God and his fear grew in me more and more, as did the faith, and my soul was rosed, so that, in a single day, I have said as many as a hundred prayers and in the night, nearly the same. I prayed in the woods and on the mountain, even before dawn. I felt no hurt from the snow or ice or rain."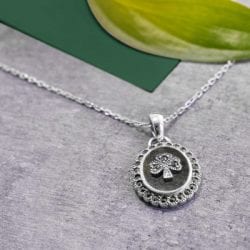 He finally escaped after having a dream from God in which he was told to leave Ireland by going to the coast where a ship would be waiting to take him home. It was here that Patrick went on to become a priest.
According to tradition, Patrick returned to Ireland to convert the pagan Irish to Christianity. He spent many years evangelizing in the northern half of Ireland and converted "thousands".
He often used shamrocks to illustrate the Holy Trinity, using the three leaves to explain, The Father, The Son and the Holy Spirit.
It is said that St Patrick drove the snakes out of Ireland. However, at no time has there ever been any proof of snakes in Ireland. This is more likely an allegory of his efforts against the druids.
March 17th – St Patrick's Day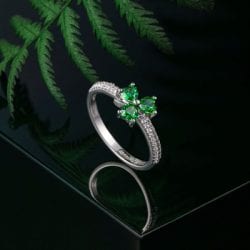 St Patrick worked many miracles and preached and converted all of Ireland for 40 years. Tradition holds that he died March 17th, 461. Now St Patrick's Day. Over the following centuries, many legends grew around Patrick and he became Ireland's patron Saint.
The Shamrock & The Holy Trinity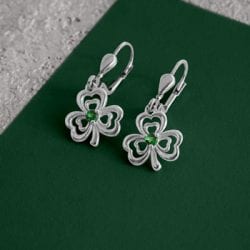 The Shamrock is synonymous with St Patrick's Day. As previously mentioned legend has it that St Patrick plucked a Shamrock from the ground to explain the Holy Trinity. Using each leaf to represent The Father, The Son, and the Holy Spirit, he converted the people of Ireland to Christianity. Hence, the very important tradition of wearing Shamrocks on St Patrick's Day!
Of course, now the Shamrock has become somewhat of an unofficial symbol of Ireland, it is used on many state organizations as an emblem such as Aer Lingus and Tourism Ireland.
Also a symbol of luck, prior to Christianity and St. Patrick, the Druids believed that they could thwart evil spirits and danger by carrying a shamrock.
Irish Celtic Shamrock Jewelry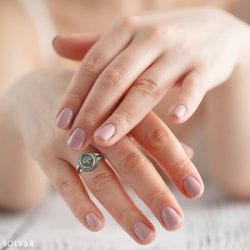 Traditionally fresh shamrocks are worn in the lapel on St Patrick's Day, however, these can be hard to find. So why not wear your Shamrocks in the form of beautiful Celtic Jewelry.
Handcrafted to the highest standards we have a range of Celtic Shamrock earrings, necklaces and bracelets to showcase your Irish Heritage this St Patrick's Day and beyond. Irish designs made from Sterling Silver or Gold and using Emeralds, Green Cubic Zirconia and Green crystals for that extra bit of Irish sparkle this St Patrick's Day.
Wearing Green St Patrick's Day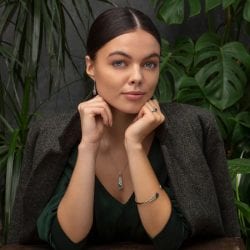 We all know it is customary to wear green on St Patrick's Day. But did you know that the original color associated with St Patrick's Day was actually blue? The earliest depictions of St Patrick show him wearing blue. And the official color of the Order of St Patrick was a sky blue known as " St Patrick's Blue".
Ireland's nickname the Emerald Isle and the green stripe in the Irish flag are some of the reasons that green replaced blue. Of course, this makes sense. Because traditionally the Green in the Irish flag represents the Catholics of Ireland, while the Orange represents the Protestants and the White in the middle symbolizes Peace.
Connemara Marble – Ireland's Natural Gemstone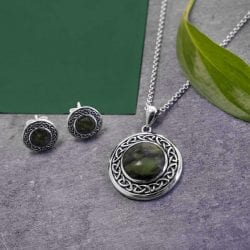 What better way to wear green that with some of our authentic Connemara Marble Celtic Jewelry. Known as Ireland's Gemstone. This natural marble is found only in the hills of Connemara. Each piece of this unique stone has varying shades of green. No two pieces are the same so you be assured that you are wearing an individual piece of Irish Jewelry not replicated!
Shop our range of handmade Celtic Jewelry with genuine Connemara Marble. Pay homage to your Irish connections with these classic authentic Irish designs. Pieces to be worn with pride this St Patrick's Day. Each piece is made in Ireland and hallmarked in the Assay Office in Dublin Castle for your mark of quality.
St Patrick's High Cross Of Carndonagh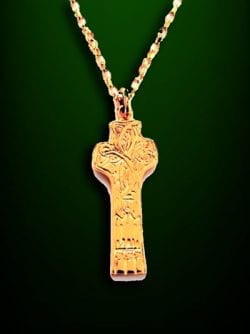 Known as the Cross of St Patrick. This Celtic cross is located in Carndonagh in the north of Donegal, Ireland. Different from other Celtic Crosses the St Patrick's Cross does not have the halo ring at the heart of the cross.
It is believed to have been erected in the 9th of 10th century because of its interlaced patterns. There is also scenes featuring Christ and of other unidentified ecclesiastics. Our master craftsmen have created this beautiful replica from sterling silver or 14K gold. Handmade with great care and attention to detail to be an exact replica of the original St Patrick's Cross in Donegal. This Cross is a miniature work of art and is an authentic copy, back and front, of the East and West face of the original cross.
Wear this intricate Celtic Cross this St Patrick's Day as a powerful symbol of your Faith and as a tribute to the master craftsmen of Ireland.
Lá Fhéile Pádraig Sona Dhuit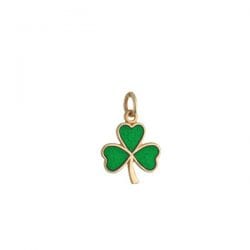 Whatever you choose to wear on St Patrick's Day is up to you but whatever you do make sure you wish your fellow Irish men and women a Happy St Patrick's Day in our lovely Irish language!
Pronounced "Law Ale-yeh Pawd-rig Sunna Ditch"